Please contact us to book a painting holiday - Telephone 01934 733877
or email joinus@alphapaintingholidays.com
or write to: Alpha Painting Holidays, Unit 4A, Kirklea Farm, Church Lane, Badgworth, Axbridge, Somerset. BS26 2QH.
"Your First & Best Choice for a Painting Holiday"


Download Brochure
Download Booking Form
Request a Brochure
Subscribe to Newsletter
Caldas de Monchique, 8550-232 Monchique, Portugal


Airport - The nearest airport is Faro Airport, which is less than an hour from the hotel.
Airport transfer is available according to flight times from the UK on the arrival date. Flights are available from most UK airports. Please call for details/advice on flights and pick up times before booking your flight.
On the departure date all guests will be taken to Faro airport at a set time to suit the relevant flights.

The four star spa resort of Villa Termal Das Caldas De Monchique nestles amongst the National Park of Serra de Monchique and sits on top of the Algarve, where you will find plenty of painting subjects. Villa Termal features an outstanding Thermal spa using the only thermal waters in the south of Portugal and boasts an outdoor swimming pool and an indoor warm rich mineral water swimming pool, well appointed rooms and plenty to do in the evening.
Restaurant 1692 - Restaurant 1692 is the main restaurant of the resort and opens onto the famous centenary Elms Patio. It is open daily with a magnificent breakfast buffet and dinner. It offers a grill menu and Portuguese cuisine with traditional delicacies from the Monchique region, including special meat dishes. Our prices include drinks with meals including wine.
The Western Algarve is just the perfect place to have a painting holiday you will never forget.
We guarantee you wont want to go home and you will definitely want to come back!
Painting Around the Resort -Within the village and complex there is a huge variety of painting spots including traditional Portuguese architecture, cobbled streets lined with deciduous trees and dappled sunlight. There are buildings perched down the valley giving various vantage points and balconies including various walkways around the valley. At the bottom of the valley there is a garden with a palm tree lined lawn within which are two outdoor swimming pools.
The hotel has numerous rooms for painting in. The main studio has plenty of natural light with a large balcony, a storage room for keeping art equipment, complete with a water supply as well as a lounge area for relaxing in.
Wine & Tapas Bar - With a cozy atmosphere, the Wine & Tapas Bar is situated in the historic part of Villa Termal das Caldas de Monchique. It is a charming space, with traditional stone walls dating from XIII century. Every day the outside wood oven bakes the famous chorizo bread. We will have lunch here on the first and last day during our painting sessions here or you can enjoy drinks here at anytime of the day.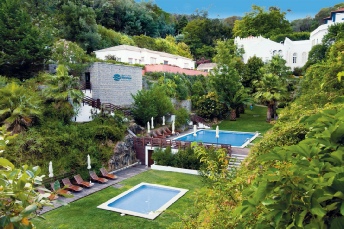 Topo Do Algarve! - On Top of The Algarve!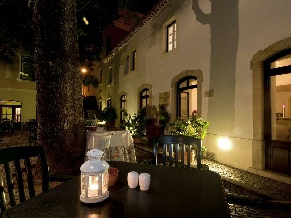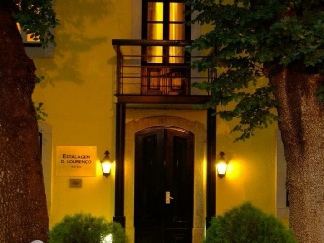 The Facilities - There are many facilities within the resort including a self-contained village with Tapas bar that is open all day, a lovely lounge, some art and craft shops, an exhibition centre and a whole array of Spa treatments centred around the healthy properties of the mountain spring.


Around the village, which nestles in a valley, there are plenty of woodland walks with deciduous trees and mountain streams. Short walks around the valley can be enjoyed after a hard days painting or the non-painting partner can go on more strenuous walks amongst the mountains where you can be given a packed lunch, a map and full directions.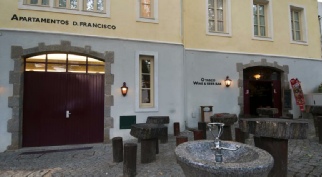 Thermal Spa Resort - Villa Termal is the only thermal spa in the Algarve and in southern Portugal! The alkaline waters, rich in bi-carbonate and fluoride contribute in a special and unique way to your relaxation and health. The thermal spa of Villa Termal das Caldas de Monchique Spa Resort offers a varied and exclusive range of treatments. Running in the rich soils of Monchique hills, this healing water is bi-carbonate, sodium and rich in fluorine.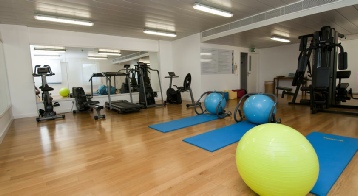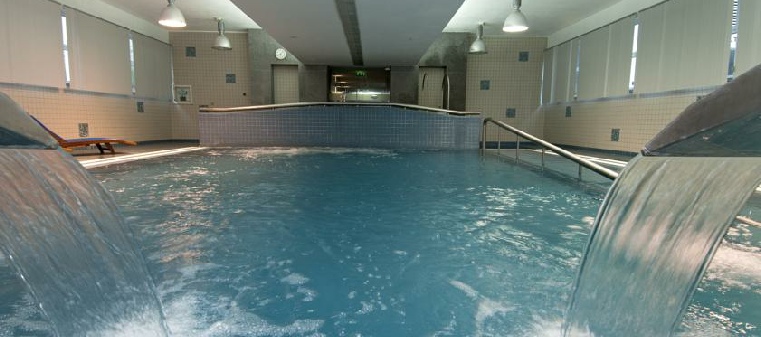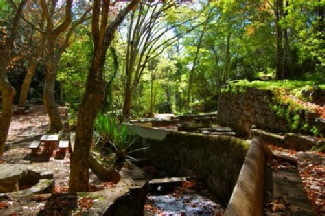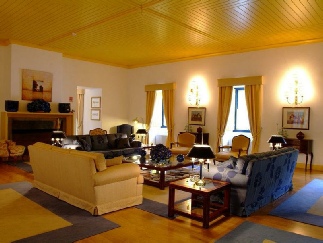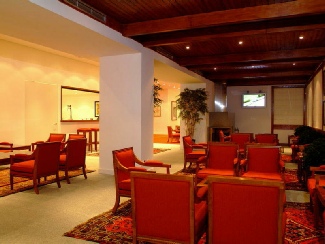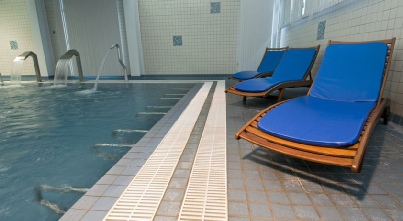 All guests on our painting holidays have free use of the thermal relaxation circuit which includes the indoor Thermal Pool, Jacuzzi, Sauna, Turkish Bath and Gym.
There are also a number of spa treatments available at discounted prices to all painting holiday guests. For details, please give us a call.
The Rooms - The elegant and charming rooms distributed through 5 unique lodging complexes, are furnished with 18th and 19th-century furniture. All rooms are well equipped and traditional in style and include TV, phone, hair-dryer and mini-bar. All rooms are en-suite, heated and have AC. Most of the lodging complexes have lifts and so is suitable for those people with limited mobility. You can also upgrade to a suite (shown on the left & below), if you want extra space. Apartments are also available on request, subject to availability. For prices and availability please give us a call.