During my annual visit to Patchings in June 2014 I came across a stall promoting Alpha Painting Holidays. They were running a draw for a free painting holiday which I decided to enter. I left Patchings that day and never thought about the draw again. One cold miserable morning in November 2014 a letter dropped through the letterbox from Alpha and much to my dismay it informed me that I had won the holiday and would I like to choose which holiday to go on. The prize was unfortunately for myself only and as my wife paints also we contacted Alpha and she decided to pay the extra and come along as well.
We chose the beautiful Wye Valley in watercolour with Barry Herniman staying at the Bells Hotel, Coleford. We went along on the 21st June 2015 for an introduction to the course.
On Monday, the first day, we travelled to Raglan Castle. It was a nice dry day but very windy. However, this did not spoil the day or deter the group from a wonderful insight into watercolour sketchbook painting with Barry. We had a lovely lunch in the castle cafe.
The weather was much better on the next day as it was quite warm. We made a visit to St Briavel's a lovely village with a castle, church and some pretty cottages. Some of the group decided to paint the church, others the castle and some of us a pretty cottage which the locals told us was historic and that each year the villagers stand on top of the stone arch and throw bread and cheese! We had a wonderful lunch provide by YHA in the castle grounds, such a peaceful place.
On Wednesday, we went to Lindors Country Hotel, which is a fabulous country house and gardens in a wonderful location with plenty of scenes to paint. The only problem was knowing where to sit and what view to paint! There was the house, waterfalls and gardens. While sitting on the terrace having a lovely lunch provided by the hotel a friendly little robin decided to take lunch with us and quite happily perched and hopped from chair to chair. What a really fantastic place, one not to miss if in the area.
It was a scenic but sometimes hairy journey down narrow country roads to Symonds Yat East, which is a village on the river Wye. It is a very pretty place with river views, boats, buildings and trees with lots going on to see and soak up. The group set themselves up in several spots around the village and Barry again helped us through the day with bite size pieces of painting and tuition. The weather was very hot and we were all pleased for the respite in the shade for a wonderful lunch supplied by the Royal Hotel.
On the last day of the course and true to the good old British weather it was cold and wet, so a day in the studio was on the cards. We painted Tintern Abbey from a photo (which is where we were going weather permitting). Although we were studio bound, the day went well with plenty of tuition from Barry and being the last day most of the group were travelling home straight after the course so were a little pleased that they were not outside getting wet. Lunch was provided by the hotel.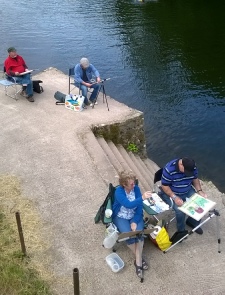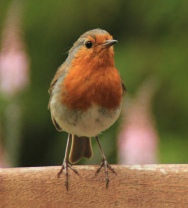 We stayed an extra night along with three others in the group and travelled home after breakfast on Saturday morning.
To sum up our week….. we had the most fantastic time, met a group of wonderful people from all walks of life but like us we all had art in common. It was our first painting holiday and in fact the first time we had painted out in the open air, so it was a vast learning curve but most enjoyable. We would recommend it to everyone.
We would like to thank Matthew from Alpha for a fabulous week. His organisation was second to none in arranging all transport to locations, coffee breaks and lunches and also to Barry for his professional tuition and wonderful insight into watercolour sketchbooks.
If anyone is thinking of taking a painting break then look no further than "Alpha Painting Holidays", a really wonderful & professional company which looks after you like one of the family and nothing is too much trouble for them. We would certainly go with them again. Well done Alpha and thank you again for a fabulous week.
,